Spark Family Sunday School
During the summer break, please use the free video and materials from Sparkhouse.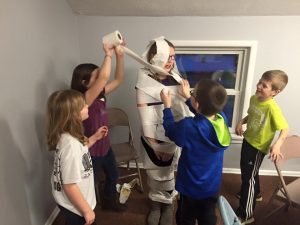 Children Pre-K through 4th Grade have two opportunities to learn during the school year.
On Sunday Mornings, our children gather at 10:30am in the Sanctuary where they sing songs, hear a story, and breakout into age appropriate groups for further hands on learning of the story. Sunday School ends at 11:30am back in the Sanctuary.
On Wednesday Nights, our children gather at 5:45pm in what we call the Upper Room. This room is located above the sanctuary. The stairs that lead to the Upper Room are located next to the double doors that lead out the front of the church. Children who gather on Wednesdays follow a similar schedule to Sunday School, except shortened. Wednesday School ends at 6:10pm so children can join their families for our 6:15pm worship.
Whether your child joins the fun on Sundays or Wednesdays they will hear God's Story from both the Old and New Testaments through a curriculum called Holy Moly. This curriculum provides a video that helps them to better understand the story by seeing it, while also leaving lots of room for diving deeper into their faith through story-telling, activities, and prayer.
GLC Policy on Prevention of Sexual Abuse and Misconduct and Protection of Children, Youth, and Vulnerable Adults